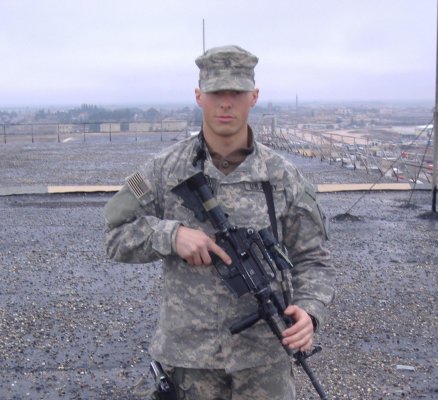 AMERICAN HERO

SPC SHANE W WOODS

Life long Palmer, Alaska resident Spc. Shane W. Woods died Aug 9, 2006 while deployed to Iraq. He gave his life while serving his country in the cause of freedom during combat operations near Ar Ramadi, Iraq. He was killed along with two other soldiers when an IED detonated directly underneath their HMMWV. He was assigned to the Army's 1st Battalion, 37th Armor Regiment, 1st Armored Division as a 19K M1A1 Armored Tank Crewman.

Spc. Woods was born 7/10/83 in Anchorage, Alaska. He lived in Palmer all his life. He attended Palmer High School, and was graduated in 2003. He was also enrolled in the Colony High JROTC program, where he excelled. In 2002 he was the recipient of the Alaska National Guard Adjutant General's Award; and in 2003 he was selected as the Commanding General, US Army Alaska JROTC Cadet of the Year. Spc. Woods military awards include the Bronze Star, the Purple Heart, the Army Good Conduct Medal, the National Defense Service Medal, the Global War on Terrorism Service Medal, the Iraqi Campaign Medal, the Army Service Ribbon, the Overseas Service Ribbon; and the Combat Action Badge.

Shane was involved with the family guiding business from a small boy, and grew up hunting and fishing in the Alaska wilds. He had a special love for climbing and hiking in the Taylor Mtns of western Alaska, and the Chugach and Talkeetna Mtns near his home. His family writes "Shane knew from an early that he was called to be a soldier, and he was so proud to serve his God and country as a tanker with the 1st Armored Division. His fellow soldiers knew him to be a real warrior, putting duty and honor above self. His strong belief in his mission to protect what we have at home; and faith in our Lord Jesus Christ is a continued inspiration to those who knew him.

"Shane loved his Alaska home. He was also a talented poet and photographer; and we are blessed to have had him in our lives. His outstanding character leaves a legacy of loving friends, family, and fellow soldiers who shall never forget the passion and enthusiasm with which he lived. He is a true hero.